If you're my twitter friend you may have seen me ask recently what special things my friends have done for their husband/fiance/boyfriend on their birthday.I got some really awesome responses! Concert tickets (to a genre of concert she didn't like, but he loved), flying lessons, beer brewery tours…
They were all amazing. But why was I asking? Well, because Mathew's birthday is coming up!
Mathew's birthday is this Saturday, and I'm pretty surprised at how well I've kept his birthday a secret from him. You see, normally I give out SO many hints, that he practically knows. I was determined to keep it a surprise this year though! (And ya see, I can blab about it on here because he doesn't even know my blog's URL lol.)
I've decided to be a little extravagant for his birthday not because he made my birthday extravagant (or that I want to "beat" him), but just because he's been working extra hard lately at work (getting there early, getting off almost an hour late every day) and he DESERVES to be treated extra special for his birthday.
So here's what I've come up with:
Mathew works til noon (or one- I can't remember) and will need to come home and change. Then I'm going to drive us to Dallas to the Galleria mall to hit up The Art of Shaving. Ever heard of it? They do old school shaving with the works, basically. He always has to stay clean-shaven for work, so I think he'll really enjoy it. It lasts almost an hour long, so it'll be like a pampering time for him. Then, I'm going to take him to a fondue restaurant for dinner, and pretend like that was all I had planned. Just when he thinks I'm taking him home, I'm going to take him to this 2 story Barnes and Noble and tell him to go crazy.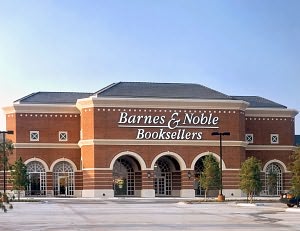 He loves books, and I got his parents to give me money for him as their half of the present. So he'll get $200 to buy whatever books he wants. I'm hoping that he really likes his birthday. It's all going to cost a pretty penny (which, as y'all know, our car is broken right now so I MIGHT have to change dinner plans so we can afford the car when it's fixed), but like I said, he really deserves it. He comes home SO exhausted and still tries to manage to stay up to spend some time with me.
So now I'm going to bring this question to you (in case someone on here wants ideas for their hubby/fiance/boyfriend in the future):
What's a cool, fun thing you've done for your guy on his birthday?

Disclosure: This post may contain affiliate links and/or product(s) sent from companies or their PR team for editorial consideration. For more information, please view my disclosure policy.