Today I'm linking up with Adventures of Newlyweds for Friday's Letters!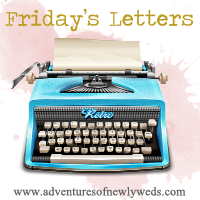 Dear Thursday, Why did you have to let my car AND Mathew's car have something go wrong with them all in the same day? Dear blog readers, don't forget about the Thirty-One giveaway on the blog til Tuesday. Also, you should really sign up with me for the nail polish swap on Shine On! Dear Taylor, We are so excited to spend time with you this weekend. We can't wait to show you around A&M and get to encourage you more on your new path with God. Dear Laura, thanks for telling me about the Loft sale. Even though I'm not AS thrifty as you, I got so many awesome clothes that are versatile. For once I feel like I did good while shopping. Dear job, please be easier this school year. Last year you were really rough on me and made me stress a lot. Dear hubby, I know you'll never read this, but I hope you know how much I truly love and appreciate you. You are my everything.
Go sign up and maybe we'll get paired up!
Disclosure: This post may contain affiliate links and/or product(s) sent from companies or their PR team for editorial consideration. For more information, please view my disclosure policy.