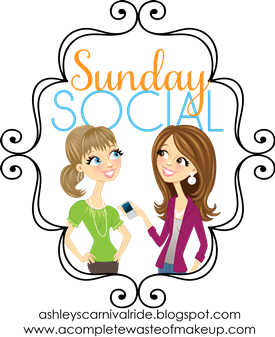 It's Sunday and y'all know what that means- Sunday Social! I don't participate in many link ups, but I heart Neely and Ashley and love their questions every week. If you didn't know already, I just switched to WordPress, so if you could take the time really quick to RESUBSCRIBE, I'd be ever so thankful!
Anyway, here it goes again: 
What is your ideal way to relax?
There's the general way I like to relax and then there's the IDEAL way I like to relax. If I had to choose my ideal way, I'd have to say at a massage spa at the El Dorado Royale in Cancun, Mexico. They have this thing called the Sky Massage, which is a set of palapas high off the ground, out in the open, on the beach, where you can get a massage.
After your massage, they have this amazing spa with pools that have massagers and all kinds of great stuff. It was THE MOST relaxing place I'd ever been. Plus, we got to experience it on our honeymoon. I have to tell y'all- it was AMAZING. I'd give anything to go back.
Where is your favorite place to be?
Honestly, I would say the El Dorado Royale again. I usually would say New York, but they're pretty tied because they're both completely different. I just love how relaxing Mexico was. Our cell phones were off all week long, we had no internet access, and we just had US time. On the other hand, I love the fast pace of New York and would love to go back and explore even more (and take Mathew this time!) I'd be happy at either one!
Who do you consider your biggest role model?
My biggest role model is Jessica Simpson. Sure, she's not perfect, but I definitely love how amazing of a businesswoman she is, how great of a mom she is, how strong her vocals are, and how smart she is (despite acting like she's stupid.) She definitely knows what she wants and she goes for it!
What does your life look like in 3 years?
In 3 years I'll hopefully have a 1 year old baby, a job as a teacher, and maybe living in a new home. It's my dream. I hope we can achieve it!
If you could go back and change one decision what would it be?
Nothing. I believe that God puts EVERYTHING in my life for a reason. Crappy ex-boyfriends, bad decisions with friends- everything. I think if I changed something in my life it'd be like that movie "The Butterfly Effect," and my life now would probably be completely different. I'd never change a thing. God has a plan for my life.
What is your biggest accomplishment in life thus far?
My biggest accomplishment is going from an incredibly low average (hey- when I started college I had NO idea what I wanted to do. School just didn't matter!) to a 4.0. I'm incredibly proud that I've worked my butt off and I get to graduate in less than 4 months!
Disclosure: This post may contain affiliate links and/or product(s) sent from companies or their PR team for editorial consideration. For more information, please view my disclosure policy.