Welcome to another week of Copy Cat Closet!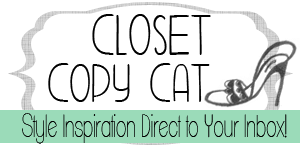 Sadly I'd missed out on them the last week or two because of illness and crazy busy school life, but I'm back this week to join! Ya'll know how much I love the inspiration that Natalia sends, and this week was all about LEGGINGS!
Natalia and her freaking adorableness
Natalia always sends fashion tips when she gives us inspiration so we have something to run off of, but this seriously made me die laughing: "Please oh pretty please make sure they are not see through. If you have a pair that are, put on some tights underneath. No one wants to see the outline of your thong when you tie your shoe. Well, maybe someone does, but we're just keepin' it classy, ladies."
So funny that Natalia posted that because you KNOW you've seen someone like that. In fact hubby was driving to work the other week and saw a Baylor girl walking on campus with "leggings" that were see through and she was wearing a thong. He even told me he wondered if she realized. Ladies, if you're planning on wearing tights as pants (and I am really against that- see the
"Am I wearing pants" flow chart
)  PLEASE for the love of all that is holy, please make sure they're not see through. 
Anyway, I decided that since it was "chilly" (yes 79 is chilly in these here parts) I'd wear leggings during the week. I'd rather wear skinny jeans and boots, but I'm not allowed to wear jeans to work unless it's Friday and I'm in a cheesy school spirit shirt. Ah, the joys of working in the schools…
So here's what I came up with. P.S.don't judge me using the restroom at work to take pictures quickly. Mathew leaves far too early and comes home when it's already dark and I need a tripod, so it's full length work mirror pictures this week! 
Outfit #1- Take note that any day I wear glasses- it's a lazy day. But even when you feel lazy, you should still try to look cute. Here I'm wearing a cute purple dress with a rose pattern on it. I bought it at a local boutique  (Roots next to Olive Branch for all you Wacoans) for one of my bridal showers and this dress is actually a lot bigger on me than when I bought it. I can't seem to get rid of it though, so I tie the strings that are supposed to go in the back around me twice and make it like a belt to somewhat give me a shape. I paired it with my leggings (Vera Wang for Kohl's) and boots (Candies). I liked the simplicity of this look and the comfy feeling it gave me while still being cute. 
Outfit #2- I know you've already seen this shirt 100 times, but you guys- I can't help myself. I'm LOVING my chambray shirt (JC Penny). I saw an outfit like this on Pinterest (minus the leggings) and thought I'd try it. The skirt is from Loft (hello clearance find!) and the leggings are the Vera Wang. I paired this outfit with my Michael Kors watch and some adorable black booties that you sadly can not see. 
As you can see, I loved this challenge. Psst- I even wore more leggings yesterday with another dress! I love leggings versus tights because I love that they're footless and I can pair them with boots, booties, and even flats. This was definitely my favorite of the challenges as it's fashion I usually do. Great job Natalia! I didn't do the hair challenge because I KNEW my hair wouldn't do the "no heat" thing. Plus, y'all already know how much I love the
wavy hair look
that I do.
If you'd like to participate in Copy Cat Closet let me know and I'll send your email to Natalia!
Be sure to check out this month's "Married" Spot Sponsor
Disclosure: This post may contain affiliate links and/or product(s) sent from companies or their PR team for editorial consideration. For more information, please view my disclosure policy.