One of the things I really want to do when Addison is born is breastfeed. There are so many benefits to babies getting breast milk, and I have so many friends that do it already, that I feel like I have so much support going into it. It's really important to me that she get the nutrition she needs, and my goal will be to breastfeed/pump for at least 12 months. I know it can be a hard thing to do at first, but with the advice of lactation specialists and women from my local La Leche League, I'm confident that we can meet our goal. One thing that I already know I want to have in my diaper bag (before I've even picked one out) is an infinity nursing scarf.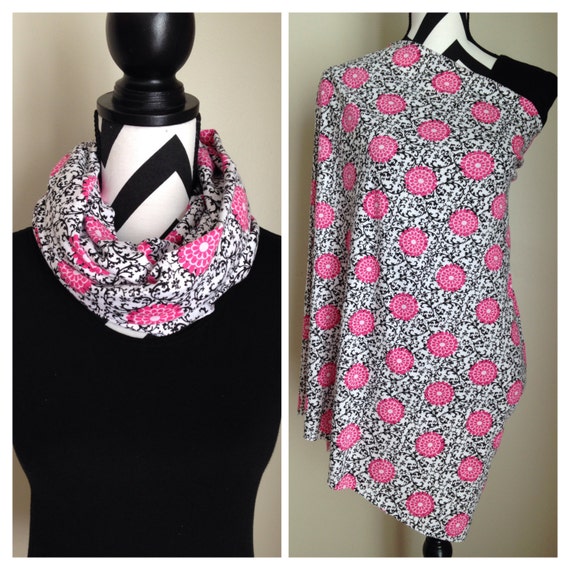 I love scarves, especially infinity scarves. Addison is due late September, and we'll be home together for about a month at least before attempting an outing together, but once October and November hit, I want to be prepared and ready for trips to family member's houses, the grocery store, or any other errands. When I came across the infinity nursing scarf choices from Linzy Dawn Designs, I was so ecstatic. She has SO many different patterns and prints to match any outfit! I may or may not have started stalking Linzy Dawn Designs on Instagram too, just to find out when she would be getting new fabric choices. Infinity nursing scarves have never been cooler.
I love that they're thin enough to wear in the springtime to keep you warm from the breezy winds, but thick enough to even wear in the wintertime and keep you cozy as well. Not only that, but there's enough fabric to cover most of your body so you can feed a hungry cutie of a baby.
You can wear the infinity nursing scarf like this:
Or you can wear the infinity nursing scarf like this:
I always saw these things and wondered how the heck you actually put them on though. Linzy Dawn Designs actually attaches instructions with each scarf you buy, so it's fail proof. It says:
1. Undo one loop from around neck.
2. To nurse on right, place left arm though loop (look going over right shoulder).
3. Open fabric full width over your shoulder and arm.
4. Bring baby in and hold in right arm under the cover.
5. Tuck the scarf fabric around and under baby and your arm.
It is now easy to peek in on your little one while they nurse! I can't wait to use my infinity nursing scarf when Addison arrives. I've already got 2 in my arsenal (this one and the Cheetah) from Linzy Dawn Designs and I can't wait to grab some more.
Even still, you might be confused. Be on the look out today for a short Instagram video from me on just exactly how to put on your scarf both ways! While you wait, check out Linzy Dawn Designs. She's offering you lovely readers 15% off your orders from now until Sunday using the code VMW15 Make sure you grab yours NOW!
Disclosure: This post may contain affiliate links and/or product(s) sent from companies or their PR team for editorial consideration. For more information, please view my disclosure policy.