Welcome to another week of Copy Cat Closet! I know it's been a couple weeks since I participated, but it's definitely hard getting 2 fashion posts out a week!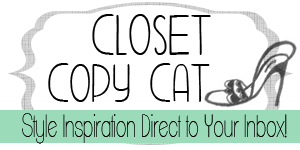 This week is all about fall fashion, and let me tell you, fall is my favorite time of the year. It's chilly but not freezing, there are cute clothes, yummy drinks and food, and most of all- I start Christmas movie-watching! Really, it's the best. Natalia gave us some great inspiration from her past fall looks for this weeks' challenge: 
Natalia's fall fashion inspiration
Natalia gave us some ideas on how to achieve the "fall fashion" look including leggings with a sweater, boot cuffs, adding a sweater to a summer dress, etc.I'm not sure who really needs advice on dressing for fall, but maybe there are a couple of ya out there that are not so into fashion. Hey- that's all good, but like I said, I freaking love fall, and I love dressing up for it.
As y'all know, Mathew, Pearl, and I took some fall pictures with the lovely Sar this weekend at the pumpkin patch. I know I gave you a teaser earlier this week, but I thought I'd debut them for Copy Cat Closet this week. They're legit pics and not just me in my bathroom with a selfies. Yay!
If you're wondering about my clothes in these: Top- Forever 21, Jeggings- Vera Wang for Kohl's, Watch- Michael Kors, Chunky Bracelet- Derng
So without further ado…(and Sar did so amazing that many of these pictures speak for themselves ;))
He's amazing
Mathew doesn't know it, but he's doing CCC today too 😉
Pearl needs a haircut
What's a photoshoot if you can't be silly?!
When you tell a girl to throw hay..
When your husband throws hay at you…
My very favorite of them all
Didn't Sar do an amazing job? I heart her and all the time she took out of her crazy day to take some pictures for us. I hope you love them all as much as I do!

Be sure to check out this month's "Married" Spot Sponsor
Disclosure: This post may contain affiliate links and/or product(s) sent from companies or their PR team for editorial consideration. For more information, please view my disclosure policy.