Good morning ladies! Happy Thursday to you all. I know for many of us it's been a pretty stressful and exhausting week, but…WE WILL GET THROUGH THIS! Plus- the weekend is almost here!
I'm linking up with Natalia and Kelley again for another week of Copy Cat Closet. I was determined to link up again this week since I felt bad for not linking up last week. If you're not participating in CCC you really should!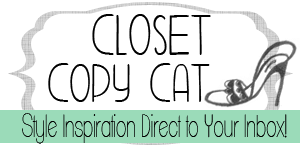 This week's theme was color blocking, and as it's been spring and summer's newest trend (well, if you count being revived from the 80s then, yes, it's new), I've made sure this summer to really try and pull it off. I found my favorite color blocking outfit for y'all (though I considered wearing my purple skinny cropped pants and another shirt but I didn't want to wear the pants for a 2nd time for CCC).
First off, Natalia gave us this inspiration to work with:
Isn't Natalia adorable?! 
Her tips were to go with solids, use accessories to help color block, pair with neutrals if you're a "beginner" to color blocking, and be confident! She also suggested the hair and makeup inspiration which was a headband and bold lips. 
I have to admit, I totally forgot about the headband (I wake up at 6:30 every morning- I'm not fully "awake" by then) and the lips. But, when I got to work, I did my lips, so I'll have that picture coming up for ya! 
So this top is from Forever 21 and the shorts are from Old Navy. I love the hot pink and bright blue combination, and I've been known to wear this outfit several times when heading to friend's houses for various casual occasions. Plus, I love how the ruffles give the outfit a little pizzazz. P.S. don't mind that my forehead looks huge (I have no idea why it looks like that today) and the fact that I'm not wearing makeup yet because it was too early. 
Here's me later in the morning with makeup. Makeup is all MAC. I used the Engaging duo for my eyeshadow, Black Russian eyeliner, and False Lashes mascara. For my cheeks I used Hipness, and for my lips I used a combo of Impassioned (and other that has a rubbed off label).  
Y'all- help me do something with this crazy hair of mine! The bad thing about curly hair is that it's hard to style! I only have 2 choices (when it's curly)- wash it in the morning and go to work with wet hair (blow drying and diffusing only make it poofy so it has to be air dried), or wear it from the previous day and throw it into a bun or something. I've been so tired from work and school that there's been no time to straighten (we came home from dinner last night and I immediately changed and went to bed at 9 pm). 
Obviously (again) I need a better photographer other than myself. I may have to have the hubby start helping me do these on weekends because let's face it- these pictures should probably not be on the web! Haha. 
Anyway, that's this week's edition of Copy Cat Closet! Stay tuned for next week when I actually have better photos! 
Disclosure: This post may contain affiliate links and/or product(s) sent from companies or their PR team for editorial consideration. For more information, please view my disclosure policy.