With only 25 days until our wedding, you can say we should be a lot more stressed than we are. Things are pretty much running smoothly, except for a couple minor hiccups.
Time is ticking away incredibly fast, but really I'm moreso worried about my school assignments than the wedding! I have many large projects due the week after Thanksgiving (aka our wedding week) and I really don't have much time left to do them. I'll be out of town this weekend for FSIL Kristin's birthday celebration in Dallas, then next weekend we'll be tying up loose ends and packing (and I'm working on a group project), then the next weekend is moving weekend, and the next one is wedding weekend! Needless to say, this time change should've added a couple days, not hours. In any case, I know every thing will get done, I'm just ready for it to be past me already.
On the upside, I can't wait for our moving weekend in a couple weeks. We're going to go ahead and put up our Christmas tree (since it'll be 2 days after Thanksgiving) and I'm excited! I think we'll take Christmas pictures that weekend, so we can send out our first Christmas cards together (well, together as in just the two of us).
I've been looking at the new holiday cards from Invitations By Dawn and they're absolutely gorgeous! I was so lucky to have Sarah Jackson (she's from Invitations by Dawn and is SO SO sweet) send me a bunch of the different holiday cards just so I could see the sizes, feel the paper quality, and see the quality of the color printing. Let me just say- AMAZING!
I sat down with my box full of different holiday cards and went to town. Every time I pulled out another card I said, "OMGOSH! I LOVE THIS ONE!" They were all great.
One of my particular favorites was the purple Ringing Greetings card.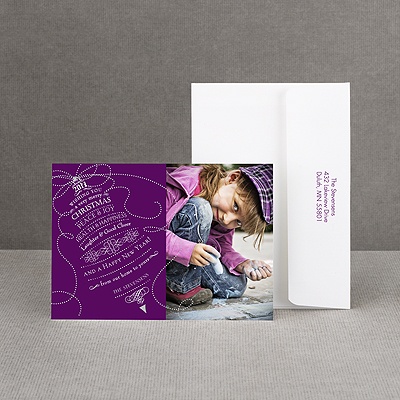 One of our wedding colors is purple and I think we'll have purple ornaments on our tree, so this one would be great!
Another that we loved was the Seasonal Wishes card.


The green/yellow "hope" is so much more vivid in person, the "peace" is a gorgeous teal blue, the paper is exceptional shiny photo paper, and it's just overall cute!
With so many choices from Invitations by Dawn (and the fact that I won a $100 gift card there from Allwomenstalk last week), I'm not quite sure which cards we'll be sending out- but we do know they'll be from Invitations by Dawn!
Also, Invitations by Dawn has a coupon code out for $25 off an order of $150 (which is easy to do if you've got a lot of cards to mail out) by entering THANKS at checkout (Code ends 11/14/11).
Many of you also showed great interest in the eShakti dress I talked about in my last post, so I was able to swing a promo code for you readers! Just enter MRSMATT0811 to get $20 off your purchase at eShakti (1 per purchase. If you're buying multiples, use the code for separate orders to get more for your money!). (Code ends 12/31/11)

Disclosure: This post may contain affiliate links and/or product(s) sent from companies or their PR team for editorial consideration. For more information, please view my disclosure policy.