Sure, monograms aren't just for "married gals" but I definitely think they gain more in popularity once you get engaged or married. Once we got engaged, I felt like I needed our monogram on EVERYTHING. I have towels, home decor, jewelry, and even clothes with my monogram on it. I just cant seem to help it! Luckily, Mathew is sweet and puts up with my love of monograms, and has let me go crazy with it.
I already told y'all I got the most adorable chevron monogram scarf from Etsy, but my Etsy finds didn't stop there. I scoured Etsy and found monogram coasters (already have), monogram pillows (I need!), monogram cups/glasses…you name it, you can monogram it!
Anyway…
I got this GORGEOUS silver monogram necklace from Chic Tags and I can't stop wearing it. I've gotten tons of compliments every day that I wear it, and it makes me smile. Plus, it comes with a chain that is nice and dainty so the monogram isn't overpowered.
I also got this cute monogram vest from GladevilleFarmhouse on Etsy. They have the CUTEST stuff for monograms- clutches, tank tops, sweatshirts/jackets, sports bras, and scarves.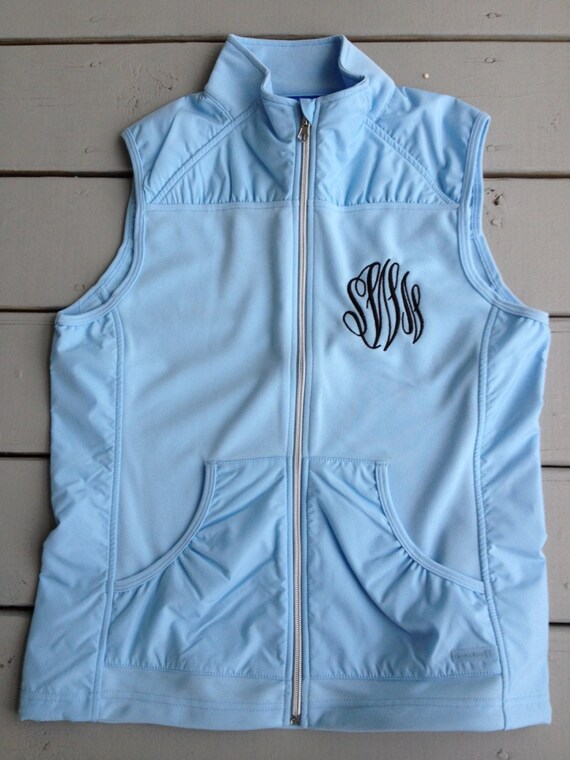 The monogram obsession hasn't stopped there. I'm obsessed with having our names on everything now and totally got this adorable family sign from Bosheree. It's only $35 which is a steal to me. I debated for a couple weeks where to put it. Did I want to start a random gallery wall? Put it on our "mantel" area? Above the door? I ended up asking several friends for their opinions (Mathew's random opinion of putting it above our bedroom door was a NO) and decided on putting it above our front door. I LOVE how it turned out, and it showcases our names so well. It's not a "traditional" monogram, but it's perfect.
There are SO many other things that you can monogram. I think my next thing will be to monogram my running shorts and maybe get our pillowcases monogrammed.
What do YOU have monogrammed? Give me more fun ideas!
Disclosure: This post may contain affiliate links and/or product(s) sent from companies or their PR team for editorial consideration. For more information, please view my disclosure policy.