There are many years where I can't wait for January to be done with so I can decorate for Valentine's Day. January is such a depressing month usually because Christmas has just been taken down, and I really don't have decorations up. It's not until late January that I can finally put up Valentine's decorations around the house. I am absolutely gathering SO much inspiration from the web right now, and it's showing all over my Pinterest boards. I thought it would be fun to show you some of the things that are making me excited with Valentine's candy decor inspiration!
1. Ceramic Dishes- This picture is actually from our December wedding 2 years ago, and I absolutely love it. We searched high and low all over the internet to find the prettiest pink and purple candies that we could find. Trying to purchase candy in October when it's still 100 degrees out isn't easy, but I'm so thankful it all stayed good! My favorite part of this inspiration picture are the ceramic initial dishes. We keep them on our faux mantle (we live in an apartment so there's no fireplace), and fill them with candy that we color coordinate during the holidays. Of course, for Valentine's Mathew and I always get the pink and red M&Ms.
2. Apothecary Jars-  Similar to my own apothecary jars from my wedding that come out during Valentine's, I can't help but LOVE the way that House of Smiths decorated hers last year. My sister actually introduced me to House of Smiths' blog a few months ago and I just love it. What makes this even more fun is that she put white crinkled paper on the bottom of the jar and then filled it. It gives the jar texture and just makes it more interesting to look at. I'll be definitely borrowing that idea this year!
3. Conversation Heart Candy Topiaries- This DIY looks incredibly simple and only uses a few items. All you need are some fun candle stick holders (for wide candles), hot glue and a hot glue gun, styrofoam cones, and conversation heart candies! This one from Our Forever House is absolutely precious and would look perfect on an end table in your living room, on your mantle, or even as a table centerpiece.
4. Valentine's Candy Flower Arrangement- I found this picture on Pinterest the other day and HAD to figure out where it came from. It's from Chelsea Nicole Photography, which I found on Utterly Engaged's website! Carnations are making a come back, and I love how they look so full and fluffy in this picture. If you can't afford peonies or they're not sold where you live, carnations are definitely a good option. I'm absolutely going to be doing this for our coffee table. I think it'd be beautiful on top of a pile of 2 or 3 love-inspired or vintage-looking  books!
5. Valentine's Candles- These candles are a great idea if you want to decorate on the cheap. I don't know why I never thought of this before! Use a small glass votive, fill it 1/3 of the way with Valentine's sprinkles, and put your votive in! These would be fun on a mantle, on a small end table, or even on the edge of your bathtub if you are like me and decorate your bathrooms for holidays too.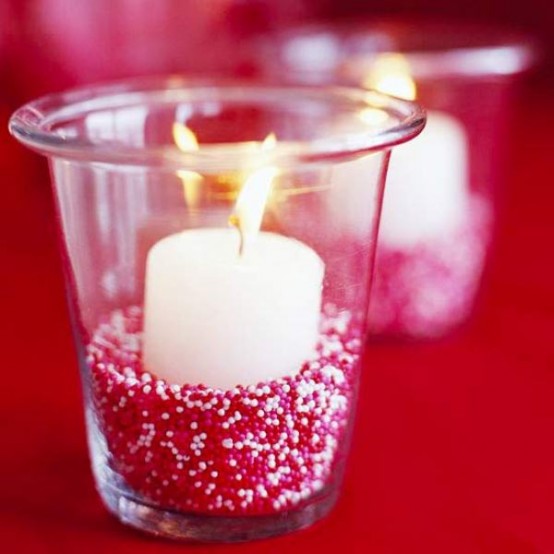 6. Candy Skewer Bouquet- This is another idea that I wouldn't have thought of by myself! I love how simple of a project it is, and how fun it would look around the house! All you need is your favorite heart shaped candy, wooden skewers, a vase, and something to fill the inside of the vase so you don't just see sticks. I'm not sure how long this decoration would last in my house though. Mathew LOVES chocolate and will sneak it any chance he gets! I have a feeling if I made this, it'd last MAYBE a couple days.
7. Candy floats- This is one of my favorite ideas yet. There's so much creativity! It looks like an ice cream sundae glass filled with M&Ms, a pixy stick, chocolate heart candy, taffy, and probably a small round styrofoam ball to keep all the taffy together. Ah I love it! At least these would be super-glued so I could use them the whole month and not worry about Mathew eating all of it!
8. Cupid's Arrows- Although these aren't made with candy, they certainly could be! I saw these cupid's arrows and thought they would be so cute with a conversation heart on the end or a sweet heart-shaped candy. It'd be fun to put in a jar just as these are, or even put on a serving tray to pass out when guests come over.
9. Candy Wreaths- There are just so many different versions of candy wreaths for Valentine's all over Pinterest. Most of them use conversation heart candies, but I love how this person used sour gummy hearts! It was definitely a different take on the idea, and one that I may just have to copy! My only concern with this is if bugs would try to eat it. Plus, it'd really only be good for one year (whereas I'm probably sure the conversation heart ones would last forever. Who knows what those things are made of!?) Maybe spraying this with some kind of sealant would do the trick to preserving this for at least the month.
10. Candy Garland- This candy garland isn't made with candy but it sure looks good enough to eat! This blogger made her hearts out of chipboard and painted them for a fun, festive Valentine's garland. This is probably my favorite from all of the ideas and it looks fairly simple to make! I also love how she used it to decorate an area of her home where she kept a little candy buffet for Valentine's. Such a fun idea!
So there you have it! 10 Valentine's candy decor inspirations! Which one is your favorite?
Disclosure: This post may contain affiliate links and/or product(s) sent from companies or their PR team for editorial consideration. For more information, please view my disclosure policy.